Cezzar Fashion Blue Monopod Pocket Selfie Stick
http://m.snapdeal.com/product/cezzar-fas...5330222310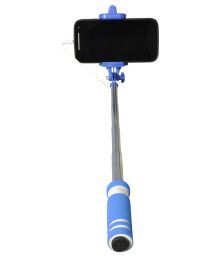 About Product :-
Pictures are always memorable and this device help you to
capture your best moments
of life.
This is sooo easy to use, so portable to carry , very soft in
touch.
Elegant Design Pocket Sized with Compact Length 13.7
cms and Extendable Length up to 1.9 ft Supports both iOS
and Android Phones whose os is 4.2.2 Jelly Bean,
Materials: Stainless Steel. Come with USB cable, pairing
your cellphone to it, and you could just smile away and
press the button for taking photo, please note it
specificly designed for IOS 5.01 above system/ Android
4.2.2 Jelly Bean system. If can't use normally, Kindly
download camera 360 or iphone iso above 5.01.
Don't need to download software, can be installed in
phone audio ports directly. It can control mobile camera
to take photos, Easy to use, Don't need to
charge.Foldable and Adjustable:the clamp for cellphone is
270 degree adjustable, you could fold it to the handel,
portable for taking it with you in your bag or pocket, if
you want to use it, just rotate it to your favorite angle,
tight it up with the scew of it, The Monopod handle is
with soft rubber so that it can reduce the hand
resistance. When your palms are sweaty, it is also easy to
grasp the monopod tightly. Lightweight with sturdy non-
slip grip.
EASILY CARRY IN YOUR POCKET