Loot: Pantry Products 50% Off + 100% Cashback Offer
Now you can get Pantry Product 50% Off + 100% Equal Value Purchase on same brand Products on Amazon.
Pantry offer now buy sample products which have listed Flat 50% Off on and get back (100%) equal value credits that you can use on same brand products on next purchase.
This deal has been expired
Click here to Visit the Pantry Product
Select the product which have listed (Product listed will be changed as Pincode specific)
Only One product on Each Quantity
Buy the product which would you like.
Click buy now /add to cart
Update the shipping address and make the Payment
Complete the order.
**You will get the email when product dispatched which has mentioned as *Benefit Confirmation for your Order: XXXX*
You can use this credit on next time purchase of Same Brand Product
Example: If you purchased Colgate Tooth Paste, then you can purchase any product of the Colgate Brand and the credits will be adjusted on final order summary.
Credits are valid till 31st October.
Here is the email which have received from amazon.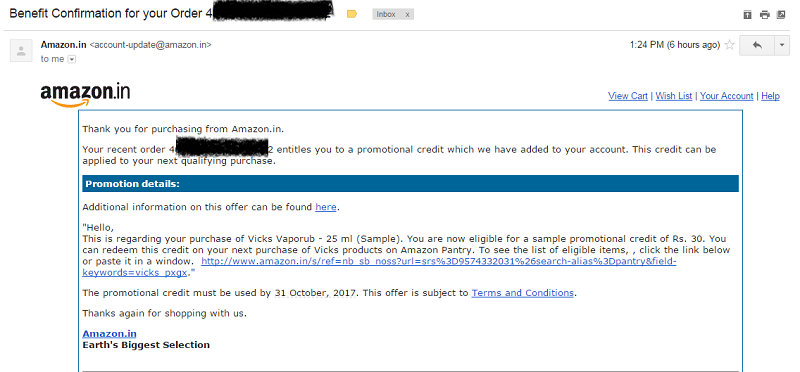 Here are some product which was listed on Chennai Pincode: